Roland FR-1XB BK V-Akkordeon Schwarz

CH-Garantie 3 Jahre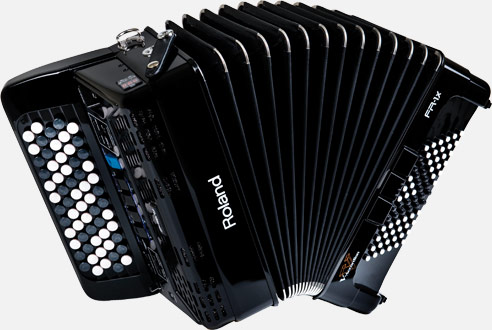 Kompakt und leicht mit fortschrittlicher Ausstattung

V-Accordions haben die Musikwelt revolutioniert und Roland widmet sich der ständigen Weiterentwicklung dieser hervorragenden Instrumente. Die FR-1x-Serie ist der neueste Zuwachs in der berühmten V-Accordion-Familie. Diese kompakten, leichtgewichtigen Instrumente bieten dieselbe Vielseitigkeit und Portabilität wie ihre Vorgänger der FR-1-Serie, wurden aber um wichtige neue Funktionen erweitert. Dazu gehören ein USB-Anschluss und ein weiterentwickelter Balg-Sensor mit noch sensiblerer und präziserer Ansprache. Außerdem verfügen die FR-1x V-Accordions über eingebaute Lautsprecher der nächsten Generation und ein erweitertes 7-Segment/3-Zeichen Display. Damit setzen das FR-1x Piano Type und das FR-1x Button Type neue Standards für kompakte Akkordeons.
FR-1x Piano Type und FR-1x Button Type mit eingebauten Stereo-Lautsprechern

USB-Anschluss für Wave/MP3-Player, zum Laden neuer Sounds und zum Laden/Speichern von Daten

Professionelles Erscheinungsbild mit einfacher Bedienung und 7-Segment LED

Standard- und Free Bass-Modi

16 Accordion Sets, 16 Orchester-Sounds, vier Virtual Tone Wheel Orgel-Presets, acht User-Programme

Erhältlich in Schwarz oder Rot
Gleichermaßen ideal für Schüler und Profis

Klein und leicht ist das FR-1x ideal für junge Musiker, Musik-Studios und Schulen. Es ist das kompakteste Modell der V-Accordion-Serie, macht aber keinerlei Abstriche bei der Klangqualität. Damit ist es auch ein perfektes Instrument für professionelle Akkordeonisten und Live-Musiker. Die Möglichkeit des Batteriebetriebs sowie eingebaute Lautsprecher sorgen für ungehinderte Bewegungsfreiheit beim Spielen. Das FR-1x ist auch ein hervorragendes Instrument für unterschiedlichste Musikstile wie Rock, Roots-Rock, Blues, Zydeco und mehr.

Spielen überall zu jeder Zeit

Genießen Sie den erstklassigen Klang der eingebauten Lautsprecher oder spielen Sie ungestört über angeschlossene optionale Kopfhörer. Das FR-1x ist das ideale Instrument für unterwegs. Dank seiner kompakten Abmessungen passt es sogar in die Handgepäck-Fächer der meisten Linien-Flugzeuge.

Höchste musikalische Ausdruckskraft

Mit einem FR-1x können Sie mehr als ein Dutzend erstklassiger Akkordeon-Sounds direkt aufrufen. Außerdem sind diverse Orchesterklänge sowie Virtual Tone Wheel Orgelklänge mit realistischen Rotary-Effekten eingebaut. Komplettiert wird die Ausstattung durch eine Auswahl an Manual Drum/Percussion-Sounds, die sich über die Bass- und Akkord-Knöpfe spielen lassen.

(Irrtum vorbehalten)
[ Keyboard, Bass & Bellows ] ■ Right Hand FR-1x piano type: 26 Keys velocity sensitive (starting at B key), FR-1x button type: 62 buttons velocity sensitive ■ Left Hand FR-1x piano type/button type 72 bass buttons velocity sensitive ■ Treble Mode (only FR-1x button) C Griff Europe, C Griff 2, B Griff Bajan, B Griff Fin, D Griff 1, D Griff 2 ■ Bass & Chord Modes 2 Bs Rows, 3 Bs Rows A-7th, 3 Bs Rows A-5dim, 3 Bs Rows B-7th, 3 Bs Rows B-5dim, 3 Bs Rows Bx-7th, 3 Bs Rows Belgium ■ Free Bass Modes Minor 3rd (37 notes Eb – Eb), Bajan (37 notes D – D), Fifth (36 notes C – C), North Europe (37 notes D – C#) , Finnish (37 notes D – D) ■ Bellows New pressure sensor for better sensitivity and Advanced Physical Behavior Modeling such as detection of bellows opening/closing, Bellows Resistant Regulator wheel with fine adjustment ■ Bellows curve Fixed Low, Fixed Med, Fixed High, X-Light, Light, Standard, Heavy, X-Heavy [ Sound source ] ■ Max polyphony 128 voices ■ Tones (Accordion Set) 16 Accordion Sets (including 4 User Sets), each one including: 14 Treble registers, 7 Bass/Chord registers, 7 Free Bass registers, 7 Orchestra Free Bass registers, 7 Orchestra Bass registers, 7 Orchestra Chord registers ■ Reed Footages 7 Treble, 5 Bass, 3 Chord, 2 Free Bass ■ Additional sounds Uploadable from USB memory and saved on 4 User sets ■ Orchestral sounds Strings, JazzScat1, JazzDoos, Str&Choir, Twin Trump, Trombone, FrenchHorn, Brass, Flute1, Tenor Sax2, Clarinet, Oboe, Ac Piano, Ac Guitar, Mandolin, HarpsStr ■ Organ sounds Jazz Slow/Fast, Latin Slow/Fast, HousPerc Slow/Fast, Theatre Slow/Fast ■ Orchestral Bass sounds Acoustic, Fingered, Bowed, Jazz Pedal VTW, Tuba Mix, Tuba, Fretless ■ Orchestral Chord sounds Strings, JazzDoos, Jazz VTW, R&B VTW, Steel Gtr, Ac Guitar, Ac Piano ■ Orchestral Free Bass sounds Strings, JazzDoos, Jazz VTW, Clarinet, Ac Guitar, Ac Piano, Oboe [ PBM (Physical Behavior Modeling) ] ■ Noises Stopping-reed growl, Closing valve noise, Left button noise ■ Individual Reed Simulation Hysteresis threshold, Expression curve, Pressure variant filter, Pressure variant pitch deviation ■ Switching Reed Sound Wave By bellows acceleration. By note repetition speed ■ Bellows opening/closing sound change By bellows opening/closing detection [ Musette tuning ] ■ Micro tuning presets 16 Types: Off, Dry, Classic, F-Folk, American L/H, North Europe, German L/H, D-Folk L/H, Alpine, Italian L/H, French, Scottish [ Effects ] ■ Reverb/Chorus 8 types, 8 types ■ Rotary for Organ sound Slow/Fast [ Panel controls ] ■ Knob controls & Registers Volume, 4 x Treble/ Orchestra/Organ + Set ■ Other switches Drum On/Off, Orchestra On/Off, Organ On/Off, Free Bass On/Off, Orchestra Bass On/Off, Orchestra Chord/Free Bass On/Off, User Programs On/Off, Wave/MP3 player: Reset/Stop, Play/Pause, Power [ Operation Mode ] ■ User Programs 8 memories ■ Orchestra/Organ Mode Solo, Dual ■ Octave Down, 0, Up for Treble, Orchestra/Organ ■ Metronome On/Off ■ Bass & Chord with drum/percussion sounds On/Off for Bass/Orch Bass 2 rows, Chord/Orchestra Chord 4 rows ■ Audio Player MP3/Wave player from USB memory ■ Bass to Treble mode On/Off [ Other ] ■ Display 7 segments, 3 characters (LED) ■ Rated Power Output 2 x 7 W ■ Speakers 9 cm x 2 ■ Wave Expansion 2 internal areas (8 MB each) to load new sounds ■ Power Supply AC adaptor, Batteries (not included): AA-type rechargeable Ni-MH x 8 *Expected battery life under continuous use (using Ni-MH 2000mAh batteries): 5 hours (speaker ON mode), 8 hours (speaker OFF mode) ■ Onboard Connectors Output jacks (L/Mono (Treble), R/Mono (Bass)): 1/4-inch phone type, Phones jack: 1/4-inch phone type, MIDI OUT connector, USB MEMORY port type A, USB COMPUTER port type B, DC IN connector ■ Accessories AC Adaptor, Power cord (for connecting the AC adaptor), Owner's Manual, Reference caps for the bass buttons, Reference caps for the treble buttons (only for FR-1x button type), Straps, Strip for securing the adaptor, MIDI and/or audio cables ■ Options (sold separately) Accordion soft bag, USB Flash Memory (M-UF-series), Audio-MIDI cable (AMC-3), Music Rest and Throne (AAP-1), Headphones (RH-200, RH-300), AA-type rechargeable Ni-MH from third-party suppliers ■ Color variation Black, Red ■ Dimensions Piano type: 405 (H) x 365 (W) x 195 (D) mm; 16 (H) x 14-3/8 (W) x 7-11/16 (D) inches, Button type: 380 (H) x 365 (W) x 195 (D) mm; 15 (H) x 14-3/8 (W) x 7-11/16 (D) inches ■ Weight (without straps and without optional batteries) Piano type: 6.5 kg; 14 lbs 6 oz, Button type: 6.4 kg; 14 lbs 2 oz

* All specifications and appearances are subject to change.